Last modified: November 11, 2022
Keyboarding
 Practice Makes Perfect!  Practice your typing at home, but remember the following:
Sit up tall and straight with your knees together and feet flat on floor.
Eyes off keyboard – memorize keys and you will eventually increase your speed and accuracy.
Keep fingers curled, palms off the table, elbows at your side, shoulders relaxed.
Focus on ACCURACY and then your SPEED will increase the more your PRACTICE!
Keep fingers on HOME ROW keys as you type.
BE GREAT TYPISTS!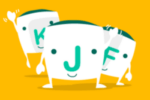 Nitro Type