Last modified: July 13, 2023
Julie Porter
Welcome to First Grade!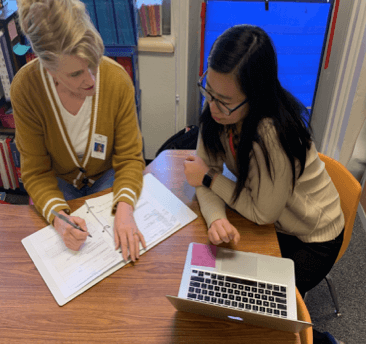 I would like to take a moment to introduce myself. I received my B.S. from BYU in Provo in Early Childhood Education and my M.S. from Purdue University in West Lafayette, IN in Curriculum and Writing instruction.
My husband, a faculty member in the School of Family Life at BYU, and I moved back to Utah from Indiana 27 years ago to raise our children. I am the mother of three grown children and the grandmother of the cutest granddaughter in the world. I have taught so long that now instead of the children calling me "Mom" accidentally, they say, "Grandma" instead and that makes me laugh!
Professionally, I have taught preschool for one year, kindergarten for 15 years and this year will be my 18th in first grade.  Working with young children is the best!  I am currently starting my 17th year here at Wasatch Elementary.  I love teaching at Wasatch!
2023-2024 Dual-language Immersion Information
This is our 15th year of the dual immersion program in Mandarin Chinese at Wasatch Elementary School. I am proud to have been with the program since its inception.  The program has been a great success!  Many of our DLI students have taken and passed the Chinese language AP exam in ninth or tenth grade.  I am thrilled to once again be teaming with Mrs. Xu from Beijing, China.  She is a wonderful partner with which to work.  We have been partners for 11 years and look forward to our 12th year together this year.  What an amazing opportunity to be able to have children here in Provo, Utah, learning how to speak and write Mandarin Chinese at such a young age!  I am always astounded at how quickly the children pick up the Chinese language during the course of the year.  I truly believe in the statement made by Gregg Roberts, (past State Dual Immersion specialist with the Utah State Office of Education) that "monolingualism is the illiteracy of the 21st Century."  How privileged I feel being able to aid the children of Wasatch in receiving the gift of a second language!  
2023-2024 Supply list
• 1 three-ring 1 1/2″ binder (2″ is too big and 1″ is too small), labeled with child's name on it
• 24 No. 2 pencils 
• 1 box (8 or 10 count) markers (not the thin ones, please!)
• 8 glue sticks
• 1 box of Kleenex
• $20.00 donation (snacks, field trips, etc.)
PLEASE HAVE YOUR CHILD BRING A BACKPACK with their name on it each day to first grade.
The only items that need to be labeled with your child's name is the binder and the backpack.  All other items will be communal in the classroom.
"NOTICE: THE ITEMS ON THIS LIST ARE OPTIONAL. NO ELEMENTARY SCHOOL STUDENT MAY BE REQUIRED TO BRING ANY OF THESE SUPPLIES TO SCHOOL. THIS LIST IS COMPILED SOLELY TO PROVIDE INFORMATION TO PARENTS OR GUARDIANS WHO WISH TO VOLUNTARILY FURNISH SUPPLIES FOR STUDENT USE. EQUIVALENT SUPPLIES WILL BE FURNISHED BY THE SCHOOL TO ALL STUDENTS FREE OF CHARGE AS NECESSARY."
"NOTICE: THE ITEMS ON THIS LIST WILL BE USED DURING THE REGULAR SCHOOL DAY. THEY MAY BE BROUGHT FROM HOME ON A VOLUNTARY BASIS, OTHERWISE, THEY WILL BE FURNISHED BY THE SCHOOL."
Classroom Links
What will we do?
We have a lot of fun in first grade!  We like to put on plays, learn about science in the world around us and study projects about our bodies, animals, and continents of the world.  We also have a day where you can dress up like what you want to be when you grow up, take fun field trips to the BYU duck pond, the Orem SCERA theater, and the Loveland Aquarium.  We also get to bring a favorite stuffed animal for a "Teddy Bear" picnic and do an amazing Chinese Fan dance.  We also like to draw and dance and listen to music.  Check out my website at: https://sites.google.com/a/provo.edu/julieporterimagination/   to see more of what it is like in my classroom.  Are you ready for some fun?  I am!